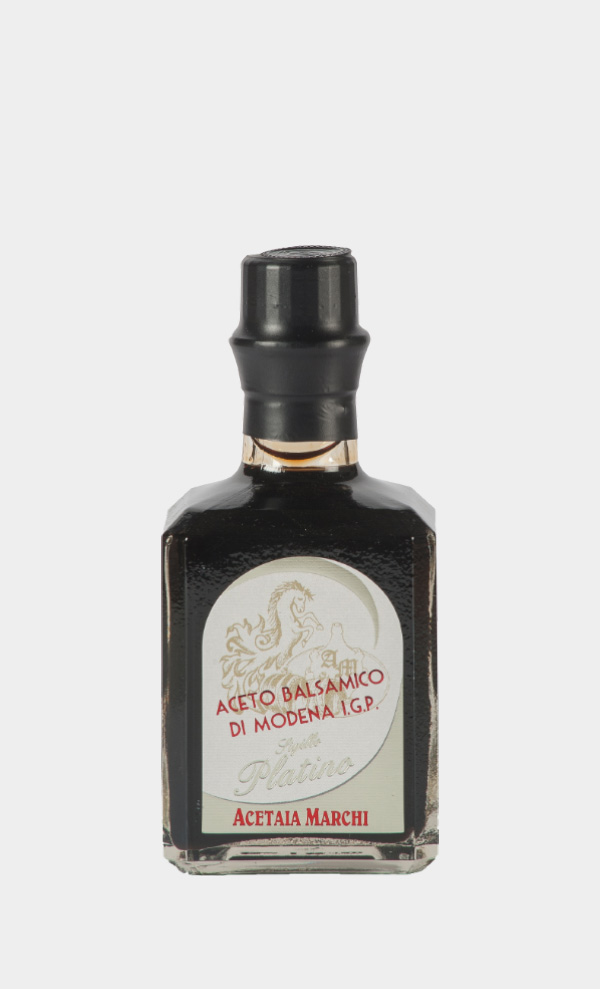 Sale!
Balsamic Vinegar
Balsamic Vinegar of Modena I.G.P. Aged Silver (Copia)
Disponibile
Aceto Balsamico di Modena I.G.P. Invecchiato Argento (Silver Aged Balsamic Vinegar of Modena ) stands out as one of the most prestigious products in our collection. It was born from the century-long experience of the Marchi family and is the result of a slow aging process that gives it a deep, clear and brilliant black color. This Balsamic Vinegar of Modena I.G.P. Aged gives a harmonious and rounded taste, accompanied by a very pleasant acetic note. It is a product of the highest quality with unique and unmistakable organoleptic characteristics.
Ingredients: Cooked Grape Must, Wine Vinegar. It is a 100% natural product. It contains no preservatives, dyes, thickeners, antioxidants, sweeteners or added sulfites. Acidity: > 6% / Density: about 1.32.
Available in 250 ml bottle with pouring cap.
Produced and packaged in Modena.
Consigli di utilizzo
Elegante, persistente e profondo, l'aceto balsamico invecchiato è avvolgente e inconfondibile. Ideale per valorizzare molti piatti fra cui:
Verdure
Carni alla piastra
Formaggi a pasta tenera
Perché Acetaia Marchi

Acetaia Marchi nasce a Modena nel 1910 ed è oggi il risultato di una tradizione che si tramanda di padre in figlio. Materie prime selezionate, esperienza ultracentenaira e dedizione fanno dei suoi prodotti sinonimo di alta qualità nel mondo. La gamma Marchi spazia dall'Aceto Balsamico IGP a quello tradizionale di Modena DOP, passando per condimenti balsamici e confetture capaci di conquistare ogni palato.