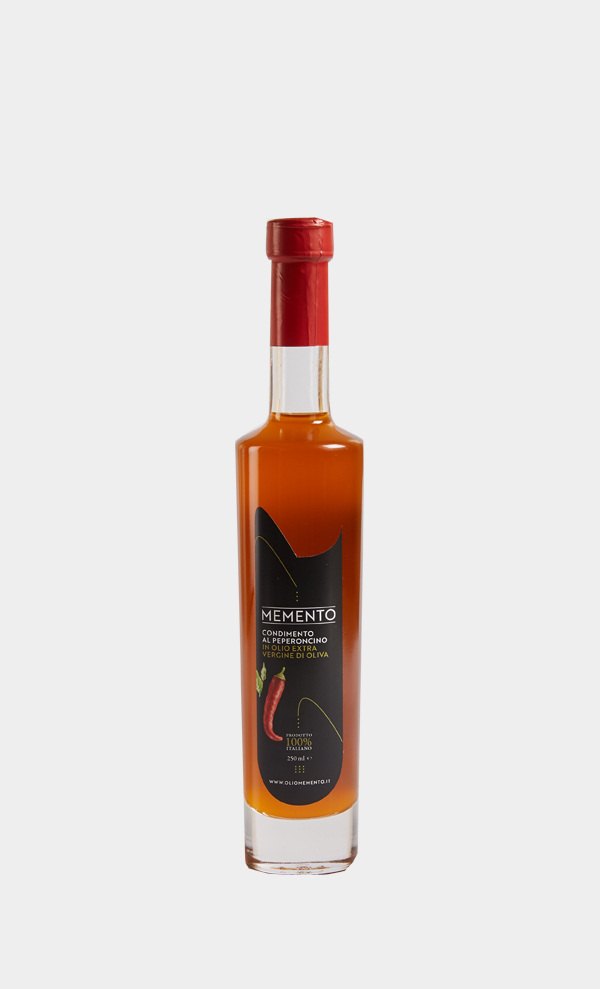 Limited production
1 bottle spicy olive oil
Disponibile
Chili seasoning in extra virgin olive oil with 1% local chili pepper lipoextract. A classic pairing for lovers of the genre: the typical intensity of 100% Italian extra virgin olive oil is accompanied by the spiciness of chili peppers, for a lively condiment capable of lashing your recipes with personality. If you love bold flavors, it pairs perfectly with a wide variety of dishes. 250 ml glass bottle.
Limited production. Produced and packaged in Apulia.
Consigli di utilizzo
L'olio al peperoncino è un classico per gli amanti del piccante e si accompagna perfettamente a moltissime ricette. Ad esempio:
Pasta con varie tipologie di sugo, tipo arrabbiata o pasta con verdure a cui dare personalità
Cous cous
Pizza, pane e focacce
Bruschette
Legumi e verdure (cotte o crude)
Ovunque tu abbia voglia di piccante
Perché Olio Memento
Il metodo di lavorazione e la qualità delle olive selezionate 100% italiane fanno di Olio Memento un alleato della tua salute. Naturalmente ricco di polifenoli e di grassi insaturi, se usato regolarmente senza eccessi è un alleato della tua salute.
Contrasta i radicali liberi con le sue proprietà antiossidanti
Ricco di vitamina E, la vitamina anti-invecchiamento
Riduce il rischio di cancro, diabete e malattie cardiovascolari
Contrasta l'invecchiamento cerebrale
No coltura intensiva, no prodotti chimici