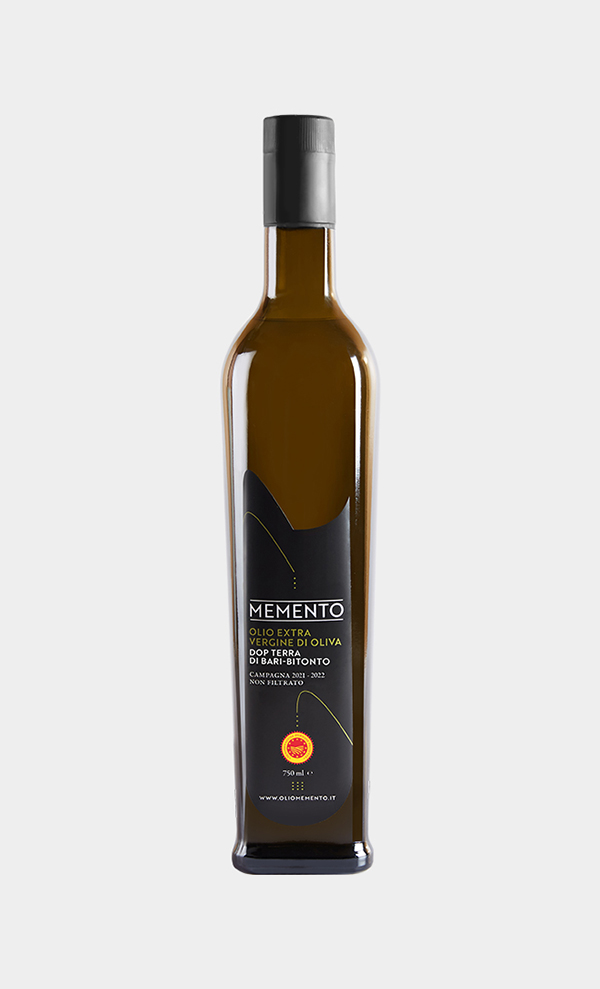 Sale!
Limited production
1 bottle oil DOP Terra di Bari – Bitonto 750 ml
Disponibile
Extra virgin olive oil 100% Italian DOP Terra di Bari-Bitonto. Fruity and highly distinctive, in the best Apulian tradition, produced in numbered bottles according to the strict standards of the PDO protocol and certified by ministerial body. A high-quality, "connoisseur" oil, but still lovable and suitable for everyday use. Olio Memento is dedicated to those who love oil "that tingles" without excess and gives dishes a true fragrance. Made exclusively from selected olives, it is a blend from the ogliarola barese and coratina cultivars. Ogliarola barese gives fragrance, while coratina is rich in polyphenols, gives intensity and the characteristic pungency.
Olio Memento is produced from olives harvested slightly unripe (60 percent veraison) by cold extraction using mechanical procedures and within a very short period of time after harvesting, so as to preserve its intense flavor and nutraceutical properties to the fullest. High in polyphenols and unsaturated fats, it is indicated in a healthy diet.
Packaged in recyclable dark glass bottles to prevent light from altering the product. In any case, it is recommended that bottles be stored away from light.
Produced and packaged in Apulia. Limited production.
Consigli di utilizzo
Ideale per dare ai tuoi piatti un sapore vivace e deciso, può essere utilizzato tutti i giorni o solo in occasioni speciali, quando vuoi un gusto vero pugliese. Grazie al profumo intenso e al sapore deciso, potrai ridurre la quantità di prodotto necessario per condire.
Gusto verace a crudo o leggermente scaldato
Ideale per condire moltissimi piatti, dal pane rustico alle bruschette, dalla pasta al pesce, dalle insalate ai latticini freschi e alle verdure
Robusto se gustato leggermente scaldato per un soffritto o utilizzato per friggere
Perché Olio Memento
Il metodo di lavorazione e la qualità delle olive selezionate 100% italiane fanno di Olio Memento un alleato della tua salute. Naturalmente ricco di polifenoli e di grassi insaturi, se usato regolarmente senza eccessi è un alleato della tua salute.
Contrasta i radicali liberi con le sue proprietà antiossidanti
Ricco di vitamina E, la vitamina anti-invecchiamento
Riduce il rischio di cancro, diabete e malattie cardiovascolari
Contrasta l'invecchiamento cerebrale
No coltura intensiva, no prodotti chimici